ABOUT
Every day we wake up is an opportunity to make an impact on the world, but we wanted to dedicate a specific day to that cause. BE IMPACTFUL DAY is all about service. Our vision is to unite professionals, organizations and individuals in the Houston area for a day of service to make a positive impact in our community.
Through service there is growth, whether it's growth for those you're serving or growth for those who serve. BE IMPACTFUL DAY promotes growth and encourages diversity. Diversity is an imperative part of the experience for us. We want people from all walks of life to unite for a day of giving back to the community. If that's not a recipe for growth we don't know what is!
Join us for our annual BE IMPACTFUL DAY event and be a part of our history. Help us build the foundation for this wonderful outreach program and define what it means to be impactful for years to come. #beIMPACTFUL
"The power of one, if fearless and focused, is formidable,
but the power of many working together is better."
Gloria Macapagal Arroyo
Partnerships
Would your company or organization like to partner with us for Be Impactful Day 2018? We'd love to hear from you, send us an email at info@bidcreative.com
"Unity is strength... when there is teamwork and collaboration, wonderful things can be achieved."
--Mattie Stepanek
Where We'll Be Impacting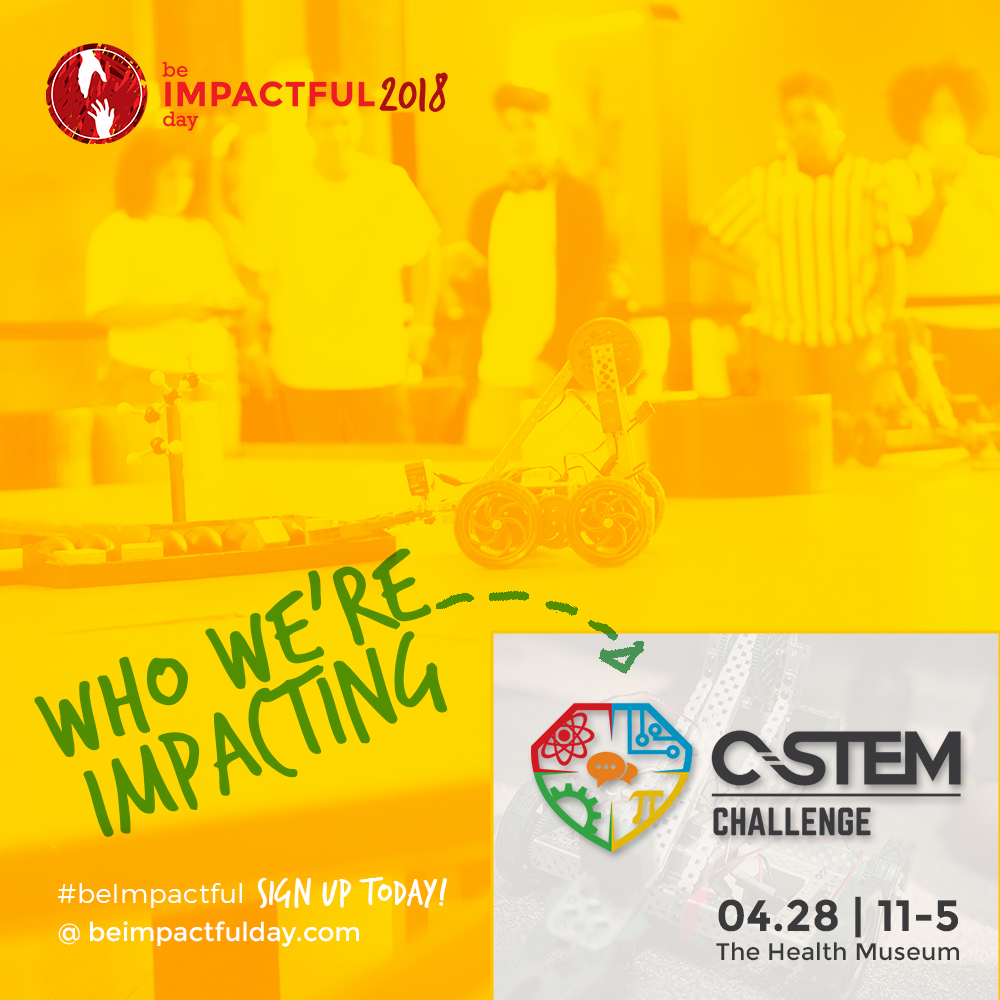 ---
While traditionally we hold Be Impactful Day on the third Saturday in April we felt that this occasion called for an exception. For Be Impactful Day 2018 we will be lending a helping hand at the 2018 C-STEM Challenge.
CSTEM Challenge is a highly engaging competition that encourages students from elementary to high schools to work together to identify, design, and build innovative solutions to 8 different Challenge modules. These modules include; Debate, Robotics, Innovation, Computer Programming, Sculpture, Mural, Film, & Photography. The 2018 CSTEM Challenge theme is Living Smarter: Powering a Sustainable and Productive Future in which students will focus on the careful management of our current resources as well as the utilization of alternative energy sources for future improvements to our global environment.
There are a few different roles available, and any assistance is needed.
Roles:
(CHL-SET) Set up & tear down: You lend us your strength and your aesthetic eyes to make sure space look neat, beautiful and ready for students, teachers to experience their best time. (Set up starts at 8 am; tear down starts at 5 pm)
(CHL-JDG) Project Judging*: You lend us your sharp mind and eyes to fairly judge and rate students' projects.
(CHL-ACT) Activities Lead*: You lend us your instructing and leading skill to expose students to many fun and engaging onsite STEM activities.
(CHL-ADM) Administrator Support: You lend us your logic and detail mind to ensure everything on the day go smoothly. You will become a connecting line between staffs, volunteers, and participators.
(CHL-SUP) Safety Support: You lend us you safety instinct and skills set to protect and give everyone a safety time.
(CHL-PHT) Photography/Videography: You lend us your photography and videography skills to capture and document every aspect of the event
(CHL-MC) Master of ceremonies: your lend us your MC skill to keep the energy of the event to the last minute.
* - may require a training session
---
See how we impacted at Herman Park for Be Impactful Day 2016
16 From him the whole body, joined and held together by every supporting ligament, grows and builds itself up in love, as each part does its work.
Ephesians 4:16